We are delighted to announce Brampton's Art and Photography Interim A level Show, at 5th Base Gallery in Brick Lane. This is Brampton's first off-site art exhibition, and we are especially excited for the exhibition to be held within the context of the thriving contemporary art scene of East London.
The exhibition highlights the work of our current A level Art and Photography students. Each student has been developing a personal project since September 2017 and this work is the culmination of their research and development. Students will work as a curatorial team and lead the installation process, considering the layout of the work in the space. The interim show will exhibit the work of the hugely successful Art Department at Brampton College, with 62% of A level students achieving A* or A grades, and 100% achieving A*-B grades, over the last three years.
The Interim Show will be held at 5th Base Gallery. There will be a private view event on Thursday 15th March, between 6pm and 9pm. The exhibition will also be open to the public on Friday 16th and Saturday 17th, between 11am and 5pm. If you wish to attend the private view or would like more information, please email lmckay@bramptoncollege.com
5th Base Gallery, 23 Heneage Street, Brick Lane, London E1 5 LJ
UPDATE 13 March
Interim Show Excitement Begins!
We're all ready for our Art & Photography Interim Show, which kicks off on the 15th March with the private view event. The exhibition is being held at 5th Base Gallery, Brick Lane, and is open to the public on the 16th and 17th March, 11am – 5pm.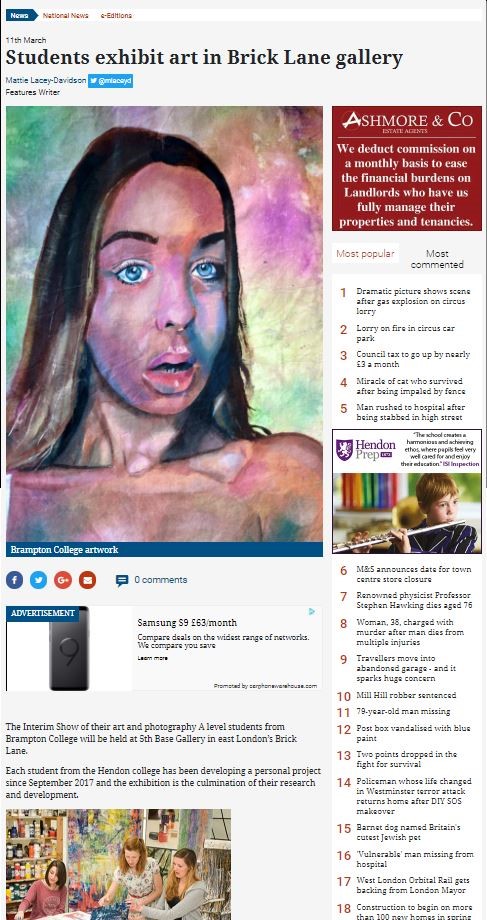 Coverage of the Art & Photography department's show made it to the Barnet Borough Times this week.
We wish all our Art and Photography students luck in installation and the exhibition!