Art has always been a great passion of mine and the opportunities that Brampton provides are vast. The art and photography studios are interlinked which allows for an inclusive environment and the sharing of facilities. For example, Brampton's dark room was very useful when I started my project and has been used by both art and photography students. Being able to constantly reflect upon my work and the access we have to support is also something that has particularly helped me. Adam or Hannah have always been available outside of class hours for help with projects when needed. During the application process for foundation courses, it was extremely intensive, however, Adam and Hannah helped me in the selection process that required me to choose the best pieces of my work to submit to universities – this then got me into Central Saint Martins! Learning at Brampton has helped me shape my aspirations and my ambition to study Fine Art or Art History after my foundation course.
I'd like to share one of my projects, 'The Face Within'. My initial idea came from the theme of 'reflection' as well as the idea of combining architecture and portraiture. To help facilitate the idea, I did sample maquettes before selecting one then expanding it to its larger form using wood so it would be more stable sculpturally. I also used mirror sheets on top of the wood to create the reflective quality I was looking for. I used black acrylic paint as my media to allow for the monochrome look which I have been doing since the initial architecture work at the start of my portfolio.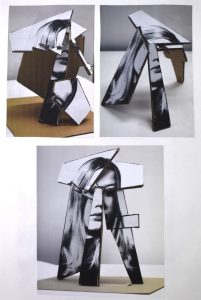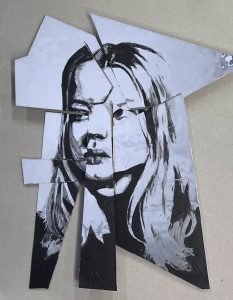 I worked to create this piece with influences coming from Cris Brodahl, Zaha Hadid, Florence Henri, and Deborah Roberts. The structure was inspired by the architecture of Zaha Hadid and has been a long process of discovery throughout my portfolio. Her strong use of glass in her work led me towards the theme of 'reflection'.
Cris Brodahl's structural artwork has also influenced this piece, helping me identify the type of geometric shapes and overlaps that I wanted to use. 'The Face Within' has also been influenced by photographer, Florence Henri with regards to ambiguity of the form, the monochrome colour palette, and the theme of reflection. Lastly, Deborah Roberts' work inspired me to combine mirrors as well as the wood for the background as she works primarily with collages of different parts of a face.
By Emily Sellar-Elliot, student