Active transport has a myriad of benefits, including improved mental and physical health, and reduced congestion and pollution. Considering this, last Friday, we ran the first workshop for staff and students to help them develop a better understanding of bicycle maintenance. Jesse, our Environmental Co-ordinator, kindly donated an old bicycle in need of some TLC.
Under some supervision, a group set to work on the bicycle. Over a few hours, they completely stripped the bike down and checked each component for wear. They then cleaned, lubricated, and reassembled the bike. The bike was then given a full safety check and tune up with assistance from one of our teachers, Imran, ready to be donated to charity.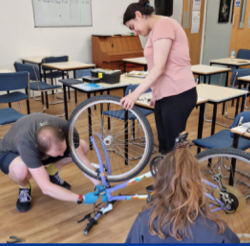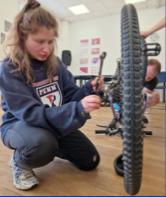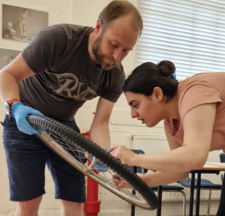 The bike will now be donated to The Bike Project a charity based in North London that take donated bikes and give them to refugees to provide them with transport and community support through a buddying system. They also sell bikes if you are feeling inspired to get involved in some active transport. We certainly have a few people at college who can help you with the maintenance now.
It was great to see students so enthused to be working on the project, and not afraid of getting their hands dirty! Not to mention learning skills which will help them save time and money by maintaining their own transport.
To find out more about the benefits of active transport, take a look at https://www.cyclinguk.org/article/20-reasons-cycle-work
20 reasons to cycle to work | Cycling UK.