Brampton has recently introduced the opportunity for students to take a LAMDA (London Academy of Music and Dramatic Art) qualification as part of its ever-evolving list of extra-curricular activities. The sessions are run by a Speech and Drama company, Beyond the Lines, which over the last 9 years, has provided innovative and exciting Speech and Drama sessions to students in schools throughout North-West London.
The course enables students to take graded examinations in Public Speaking and Acting, which are regulated by Ofqual and generate UCAS tariff points. The Acting syllabus gives students the opportunity to work together to develop characters and scenes from exciting new plays as well as those that they may already be familiar with. The Public Speaking syllabus enables students to write and deliver coherent and concise speeches and encourages them to understand and adapt speeches to selected audiences.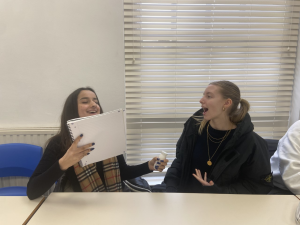 Within both courses students develop a broad range of skills that will serve them throughout life including –
Boost self confidence
Enhance communication
Develop vocal clarity, projection and diction
Increase memory retention
Lessons build pupils' vocal and physical range, encouraging them to work creatively with others, and teach pupils to speak clearly with expressive confidence and to develop a wealth of personal skills. Already our Brampton students are feeling the benefit, with one explaining "LAMDA has transformed my communication skills and made me a more confident student!"
During this course, students will work towards and enter a LAMDA examination which takes place at LAMDA Headquarters in Barons Court.