Students at Brampton College have been busy both inside and outside the classroom this term with a variety of talks, trips and workshops.
Biology Visit to Reading University
All of the final year Biology students attended the National Centre for Biotechnology in Education at Reading University. They carried out PCR, Gel electrophoresis and put plasmids into E.coli, all of which is great experience for our students. They also had the chance to work in the type of lab they will use at university if they study undergraduate sciences. All of the techniques had been studied in lessons, but this trip gave them hands-on experience of a topic that is challenging when only done theoretically.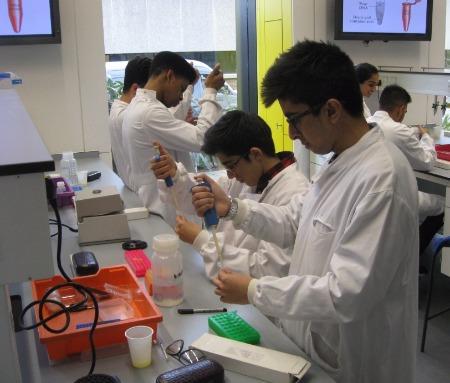 I thoroughly enjoyed my trip to the University of Reading. The instructor from the laboratory was very informative and facilitated the learning of the PCR and electrophoresis techniques very well. This trip has not only helped me to tackle one of the hardest topics in A level Biology, but also inspired me to seek scientific research opportunities as an undergraduate at university
Joyce Kam, A level student
Geography Field Trips
On Tuesday 1st March AS geographers visited Juniper Hall Field Centre in Surrey. Students investigated rural rebranding in the Mole Valley and collected a wide range of primary and secondary data. Visiting two constrasting farm diversification schemes, Denbies Vineyard and Bockett's Farm, enhanced students' knowledge and understanding of rural issues. They also enjoyed the home made cake and table football provided at the field centre!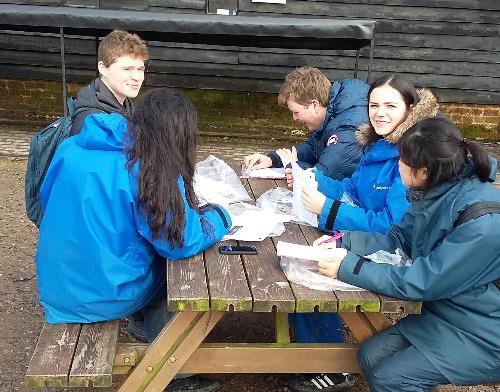 Earlier in the term GCSE geographers visited Epping Forest Field Centre in order to investigate downstream changes in Loughton Brook. The students enjoyed collecting primary data about the river's width, depth, wetted perimeter, velocity, gradient and bedload.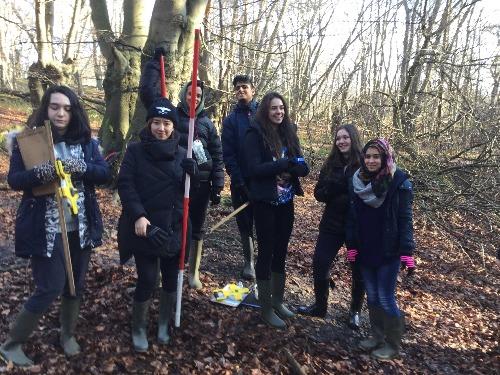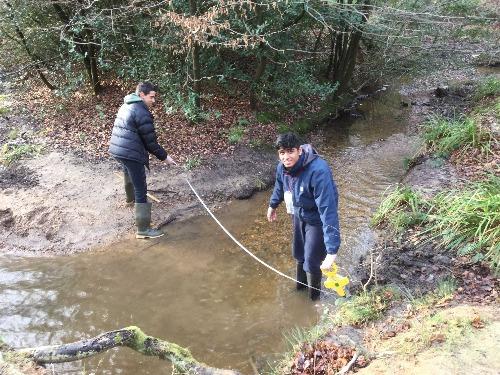 Ian Morley's talk to our Economics Students
Ian Morley is an economic consultant to international governments, and Brampton College has been lucky enough to have him visit for 6 years in row. This year he focused on the EU referendum and discussed what an in or out vote might look like. He admitted that despite having a lot of information about the EU debate, he was still undecided. He also talked about how the Chinese economy affects the financial markets worldwide. The talk was well attended and provoked some interesting discussion.

Career Talks
A Psychology talk given by Dr. Richard Cook of City University gave students information on what a Psychology degree is all about, and the career paths they can embark on following the degree. Dr. Cook also informed our students on the entry requirements for City University (AAB), and how the degree is delivered by his university. Specifically he mentioned that the degree focuses quite heavily on science, so students wanting to go to City must demonstrate their interest in this area.
Dr. Julia Gallagher from Royal Holloway University London inspired some good questions from our students after her talk on International Relations and Politics. She is a specialist in African Politics, and interestingly, part of her talk covered the kidnapping of the girls in Nigeria by Boko Haram. She looked into the international response to this situation and what has or has not been done. Dr.Gallagher explained that the entry requirements for her course are AAB/ABB and students have to show good essay writing skills, but not necessarily with Politics A level.
Allison Holmes, a PhD student in Law came to talk to students about different routes in to Law and studying Law at Kent University (entry grades AAA/AAB). This included an explanation of studying LLB at undergraduate level, as well as how to move on to graduate law with an undergraduate degree in a different discipline. Her information on the difference between training for Barristers and Solicitors was eye-opening for some students and some interesting questions were asked. Allison had a different route in to Law herself, starting her training in the USA. She is currently completing her PhD thesis on Cybercrime.
Paul Conyers, Physivs and Computing teacher, whose previous career involved over twenty years' experience of work a number of major banks in the City of London; described the nature of work in the investment banking sector. The talk included details of opportunities open to students of maths, computing and physics in quantitative finance.
Royal Academy Life Drawing
This year the Royal Academy returned to college for a 1 day life drawing workshop. In this intense session students were encouraged to explore drawing in a dynamic and free way. Working from the unclothed figure, the pace of the day the day was broken up into quick, short drawings of 2-3 minutes followed by longer poses where students work on a larger scale. No time was lost as students are led through the challenging nature of the tasks with the expert guidance of the visiting tutor. Students produce an impressive body of work during the day and the work produced often forms a vital part of portfolios for art college applications.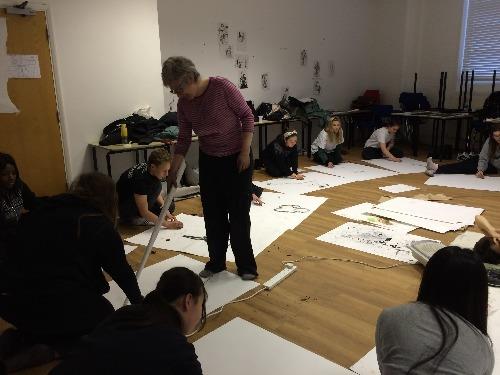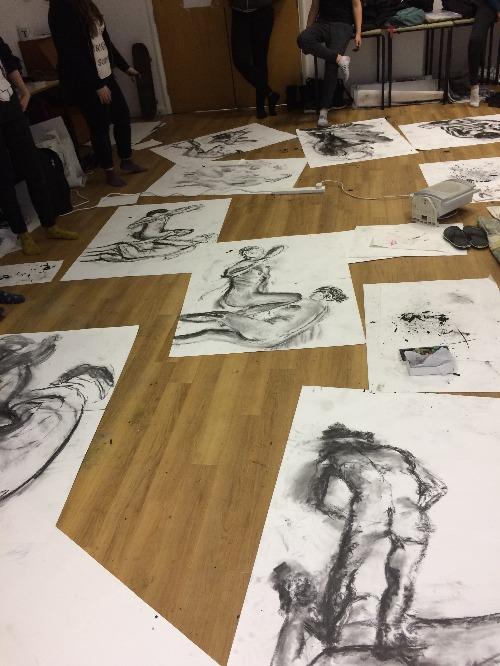 Classics Trip
A2 Classics students were given an insight into various aspects of Virgil's Aeneid when they attended a lecture day in the Spring term. Together with students from all over the country, they were privileged to hear lectures given by speakers from Oxford University who spoke about the different themes that they could be examined on this summer.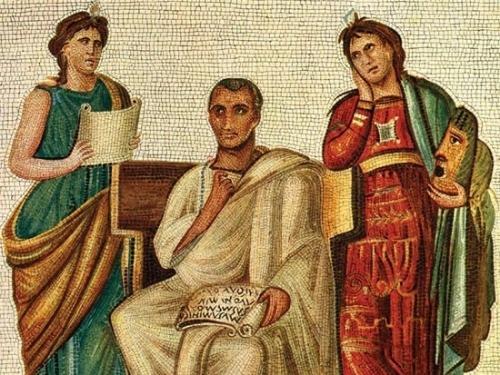 Science students visit to the Hunterian Museum
On afternoon of Friday 11th March a small group of students attended the 'Your body, your consent?' session run by The Royal College of Pathologists. The students learnt about legislation and ethical issues surrounding the use of human tissues and had facilitated discussions with working pathologists about how this could apply to contexts such as donations, transplants and genetic testing. We also had the opportunity after the session to explore some of the fascinating medical displays in the Hunterian museum.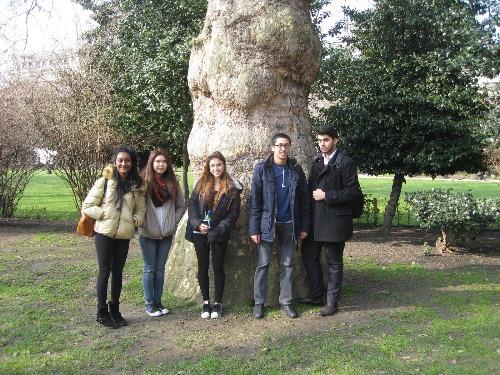 Arduino Club
The College operates a club where students, irrespective of subject being studied, can learn to program Arduino Computers. These small microcomputers provide a simple 'hands-on' environment where students can develop simple programs and then create devices that interact with their environment using sensors, displays and actuators. Students have made significant progress this term and have achieved some excellent results.